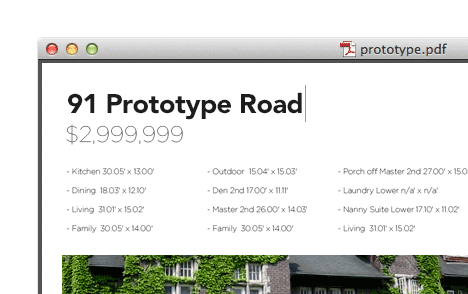 No technical skills required
The flyers are dead simple to customize, just download Adobe Reader and highlight the text you want to change or click the image to upload a new one. No hassle. Each one of our templates are a collaboration between experienced real estate agents and professional graphic designers.
Easy to print off or email to buyers
You end up with a great looking PDF document that you can easily print yourself or take it to a professional printer. Each property feature sheet is carefully designed by a expert graphic designer so you can get professional flyers at the fraction of the cost.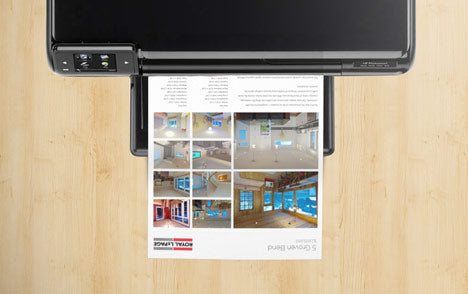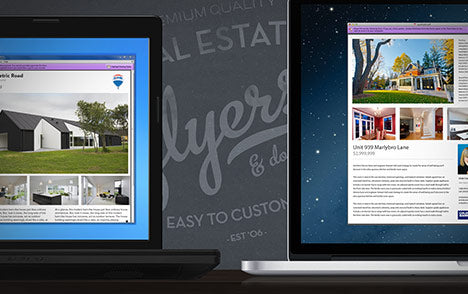 Takes minutes to edit a flyer
If you have all your photos, logos and content ready each flyer takes only about 10 minutes to customize and print. You just have to select the text you want to change and choose from your computer what files you want to upload.
---
---
How to download and start customizing your new flyer
If you run into any problems you can always contact us
Step 2
Pay with your credit card (Mastercard, Visa, AMEX)
Step 3
We'll send you the file via email instantly, just download and open it up
Step 4
Start customizing your flyer in Adobe reader (90% of computers already has this installed)
---
---
Seven reasons to use use SnapFlyers
Why you should download one of our real estate flyers
1) Create beautiful feature sheets
These flyers are perfect for displaying essential information for selling the home or property. On all the templates there is space for a paragraph style description of the property and an area for listing out information like dimensions, amenities, and more. Since they're single page feature sheets it's cheap to print and give out to potential buyers. All flyers come with space to upload your own images.
2) Easy to print out flyers
Adobe Reader - the tool you use to customize your flyers - lets you print your flyers straight from the application. If you don't want to print your flyers at home you can attach the PDF and email it to a professional printer. Most flyers have a white background so you can save on ink costs for your printer.
3) Email buyers your flyers
When you're finishing designing your feature sheet you can easily email it to prospective buyers by attaching it as a file. All flyers use Adobe's universal PDF format allowing a variety of platforms including the iPhone, Mac, Android, and PCs to easily open the flyers.
4) Show your flyers on an iPad
Did your printer break? Any iPad or tablet can display your flyers once you're finished making your own feature sheet. Just save your flyers and email it to yourself or upload it to your website. Then open it on the desired device and buyers can view your custom flyer.
5) Professional designed
Our design team ensures each template looks sleek and clean so that the most important content - your real estate property - stands out. Each flyer was designed on a grid so that all the elements can match up. This gives each flyer a crisp and clean look. Say goodbye to your scruffy Microsoft Word fonts. We licensed word class fonts and typefaces like Avenir, Myriad Pro and Proxima Nova so that you can use them with your flyers.
6) Easy to edit
Changing text on the flyers is simple. Just highlight the words you want to change and type (or copy and paste) the new wording. Same with images, just click on the photo you want to change and upload a new one. Photos are automatically resized to fit the proportions of the flyer.
7) Takes 15 minutes to customize
Since it's so easy to edit the flyers you can have a flyer completed in less than 15 minutes if you have all the content ahead of time. Just copy and paste the text you want to change and upload a few of your photographer's photos. If you're not happy with your changes you can always change them.